We are Wedumsdalens Nejder.
Welcome!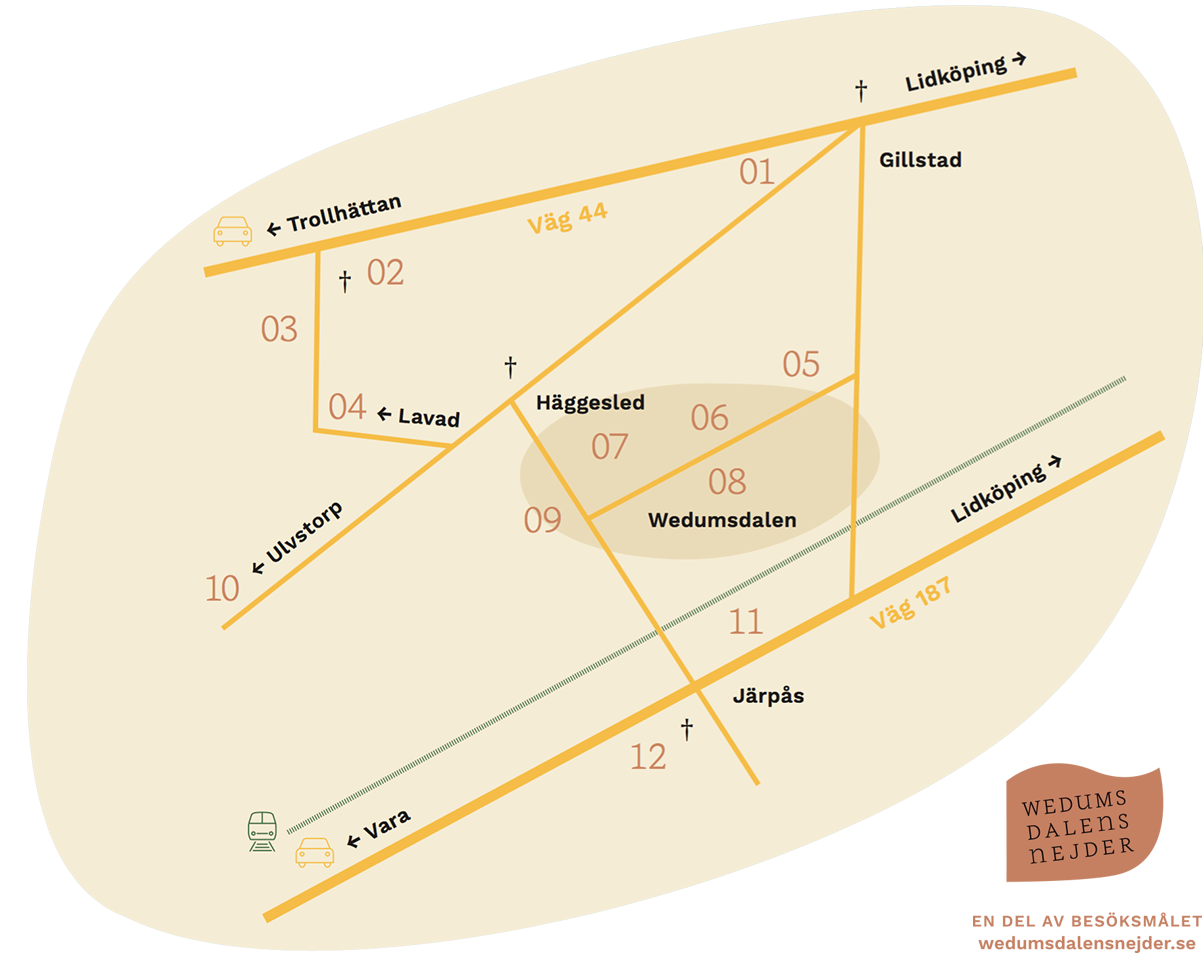 08 KORPEGÅRDENS HERRGÅRD
www.korpegarden.se
Facebook: Korpegårdens Herrgård
Tel 070-304 51 45
Ett stilrent corps de logis, i gustaviansk stil, mitt i kulturlandskapet. Vi bjuder in till Bo på Herrgård eller Möten och Konferenser. I vår Hästbutik hittar du utrustning och kläder för hästsport och friluftsliv. Vintertid kan du förvara din bil, båt eller husvagn hos oss.
09 BJÖRKLUNDA GÅRD
bjorklunda.info@gmail.com
Phone +46 70 534 18 64
Genuine family estate with arable farming, forestry, sawmill operations, apiculture and grazing animals. Ecological and close to nature. Varied countryside, rich in species and things to be enjoyed as a result. Farm products available to order.
10 JORDARV
www.jordarv.se
Phone +46 73 963 66 94
Small-scale market garden with primarily seasonal production that also keeps cows, sheep, pigs, hens and ducks. We offer lovingly produced raw ingredients for a green future.
11 B­M A DESIGN
bmadesign@hotmail.com
Instagram: bmadesign58
Phone +46 73 822 66 05
From distressed iron to softest wool, hand-crafted objects and rugs for your home. All available in my workshop or my shop in Spiken. Upcycling and recycling are central themes in my company's output.
12 EKOLOGISK JÄRPÅSHONUNG
Phone +46 76 114 12 16
Beekeeping with organic certification (KRAV label). Monofloral honey of highest quality from rapeseed, white clover and red clover fields. We offer pollinator bees for crop production and bee forage plant seeds. Wax and queen bees also for sale on a small scale.