We are Wedumsdalens Nejder.
Welcome!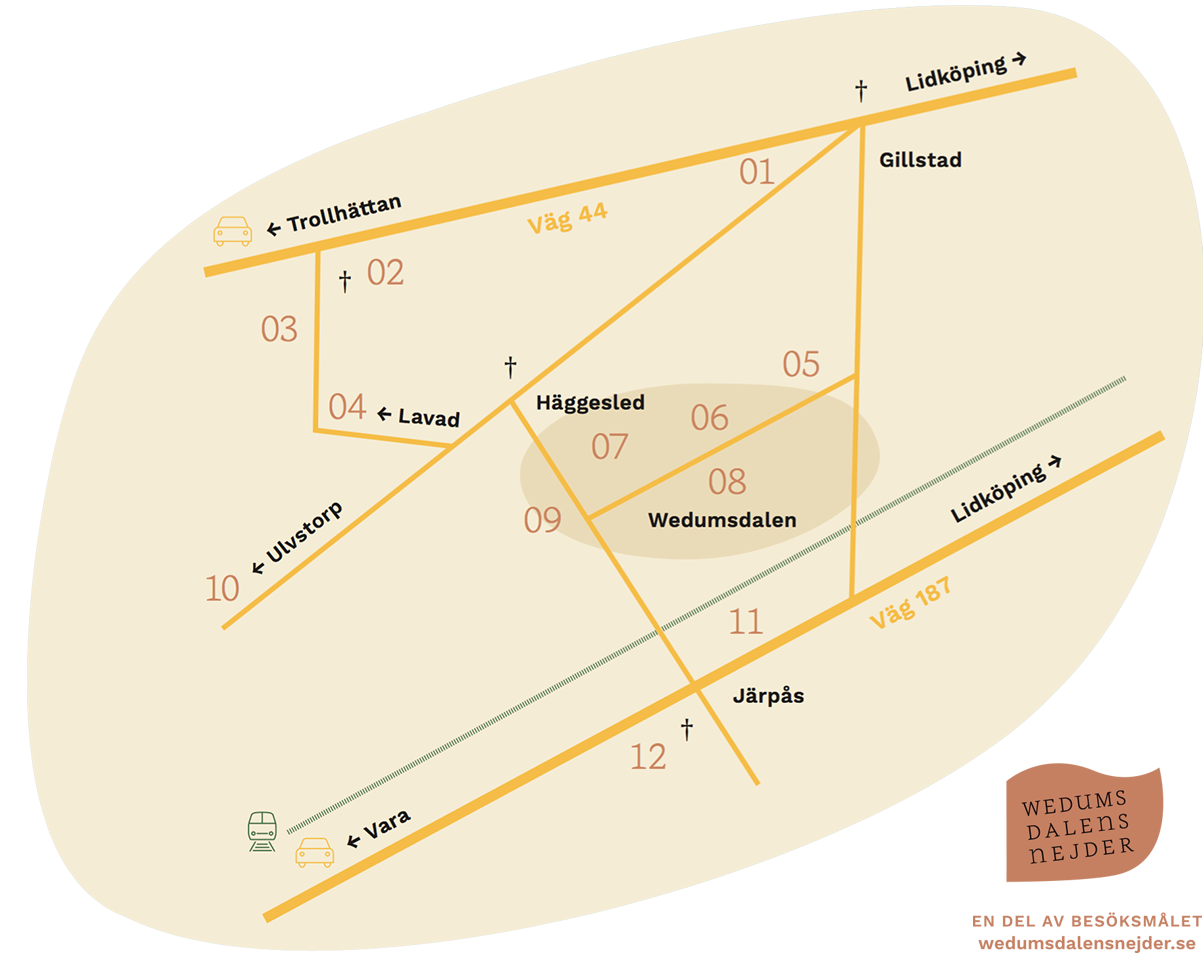 00 SNICKERI GETFOTEN
www.snickerigetfoten.se
Phone +46 70 871 08 21
Carpentry with traditional manufacture of all types of woodworks. Windows, doors and furniture are made to the customer's wishes. Framing, furniture renovations, as well as lathe, sculpture and veneer work are also carried out. If you have your own idea, it can become a reality in this workshop.
00 SALONG VÄSTERGÅRDEN
www.salongvastergarden.se
Phone +46 73 377 77 49
Welcome to a calm relaxing hair salon with a feel of luxury. Located on our horse farm in the beautiful countryside of Gillstad. To stay educated and knowing trends and new techniques is inspiring and an absolute must for me as a hairdresser.
02a BACKGÅRDENS TURISM OCH KULTUR
www.backgardens.se
Phone +46 510 730 77
Stay in a chalet with a rural view or visit our farm museum. Further attractions (in a former stall building) include a doll display, antiques and a flea market. Feel free to roam through our beautiful countryside. Perhaps you will stumble across the soldier's croft in the old village of Lavad.
02b TORPVIS
Facebook: Torpvis
Phone +46 70-254 09 27
Textile handicrafts in different shapes, materials and techniques. I am inspired by our textile heritage and take the old to the present. Recycling and sustainability are key words for me and I want objects to be able to use over and over again. I also mix my own teas.
03 KARINAS TAPETSERAR­ VERKSTAD
www.karinastapetserarverkstad.se
Phone +46 70 365 49 55
The workshop that provides masterly help with sewing, mending and renovating everything from cushions to boat covers. You could also try one of my courses! Inside what was once a cowshed, you will find renovated second-hand furniture and accessories. A little more too!
00 STINGGÅRDENS GRÖNSAKER OCH ÄGG, HÄGGESLED
Phone +46 73-686 64 36
From our small-scale, self-sufficient cultivation, we can offer fresh vegetables of various kinds from May to October. The eggs come from our free-range hens, which also contribute fertilizer to all vegetable lands.
05 STORA BRYNE VIN & TRÄDGÅRD
www.storabryne.se
Facebook: Stora Bryne Vin & Trädgård
Phone +46 70 177 22 12
The manor house, which hosts art and music, is embedded in an English-style park. We offer guided tours of its history as well as cultural experiences. There is also ecological apple growing and own production of Swedish punsch.
06 KARINS BYGGNADSVÅRD
Facebook: Karins Byggnadsvård
Phone +46 70 364 945 30
I carry out true-to-style renovation and carpentry/joinery work. Bathroom and kitchen tiling. My specialities include reuse, quality and sustainability.
07 ENSTRÖM & BLOM
www.enstromblom.se
Phone +46 70 555 22 97
A ceramics studio with showroom and shop. Items for everyday use, furnishings and garden accessories. Tuition in pottery techniques (throwing and hand-building) – choose for yourself at our workshops in Häggesled!
08 KORPEGÅRDENS HERRGÅRD
www.korpegarden.se
Facebook: Korpegårdens Herrgård
Tel +46 70-304 51 45
A Gustavian-style main building in a heritage setting. We invite you to stay in the mansion house or to hold meetings and conferences here. Equipment and clothing for riding and the outdoor life can be bought from our equestrian shop. In winter, you can store your car, boat or caravan here.
09 BJÖRKLUNDA GÅRD
bjorklunda.info@gmail.com
Phone +46 70 534 18 64
Genuine family estate with arable farming, forestry, sawmill operations, apiculture and grazing animals. Ecological and close to nature. Varied countryside, rich in species and things to be enjoyed as a result. Farm products available to order.
10 JORDARV
www.jordarv.se
Phone +46 73 963 66 94
Small-scale market garden with primarily seasonal production that also keeps cows, sheep, pigs, hens and ducks. We offer lovingly produced raw ingredients for a green future.
11 B­M A DESIGN
bmadesign@hotmail.com
Instagram: bmadesign58
Phone +46 73 822 66 05
From distressed iron to softest wool, hand-crafted objects and rugs for your home. All available in my workshop or my shop in Spiken. Upcycling and recycling are central themes in my company's output.
12 EKOLOGISK JÄRPÅSHONUNG
Phone +46 76 114 12 16
Beekeeping with organic certification (KRAV label). Monofloral honey of highest quality from rapeseed, white clover and red clover fields. We offer pollinator bees for crop production and bee forage plant seeds. Wax and queen bees also for sale on a small scale.
00 ANNAS SKATTKAMMARE
www.annasskattkammare.se
Phone +46 70 303 66 58
The shop with the little extra for your home, for yourself or someone you like. Organic soaps, candles, detergents and confectionery. Unique furniture and old objects are mixed with new porcelain, flowers, jewelry and textiles. The style is rustic, French Nordic, simple and industrial.